Refresh
2023-01-05T00:21:26.995Z
Greetings tech heads! This is John Loeffler, computing editor for TechRadar, on the ground in a rather chilly Sin City, USA. The crew and I are getting ready to head over to the Venetian to watch AMD's CES 2023 Keynote address, so we'll be bringing you all the latest as it happens, so stay tuned for news on everything AMD!
2023-01-05T02:17:24.245Z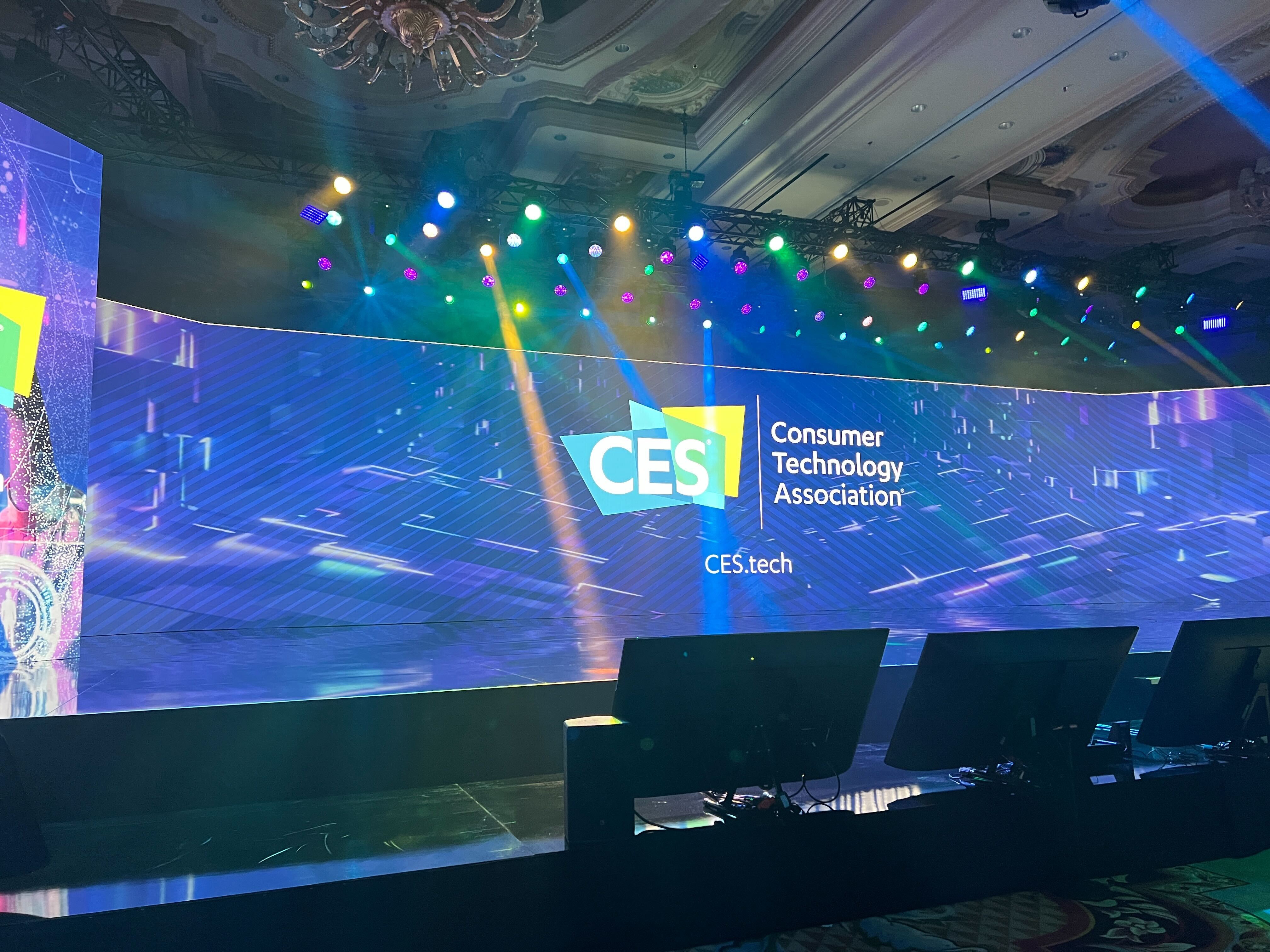 So we're here at the Palazzo Ballroom at The Venetian hotel as the crowd starts filtering in ahead of AMD's keynote address. We've got about 15 minutes to go now!
Ready for tonite! So excited to be giving the opening keynote @CES this evening…. We have a packed show with some amazing guests….. join us at 6:30pm PT….. https://t.co/I698s8e2cx #TogetherWeAdvance #CES2023 pic.twitter.com/RNW3xefx37January 4, 2023
See more
So what are we going to get tonight? New 3D V-cache processors? The Radeon RX 7800 XT? Both? we'll know soon enough!
With 10 minutes left to go, I can say that we are definitely hoping for some new processors with 3D V-Cache. The AMD Ryzen 7 5800X3D is one of the best processors ever, even with the latest Ryzen 7000-series chips.
We'd love to see what 3D V-Cache on Zen 4 will look like, and hopefully we'll get a taste tonight.
2023-01-05T02:26:09.238Z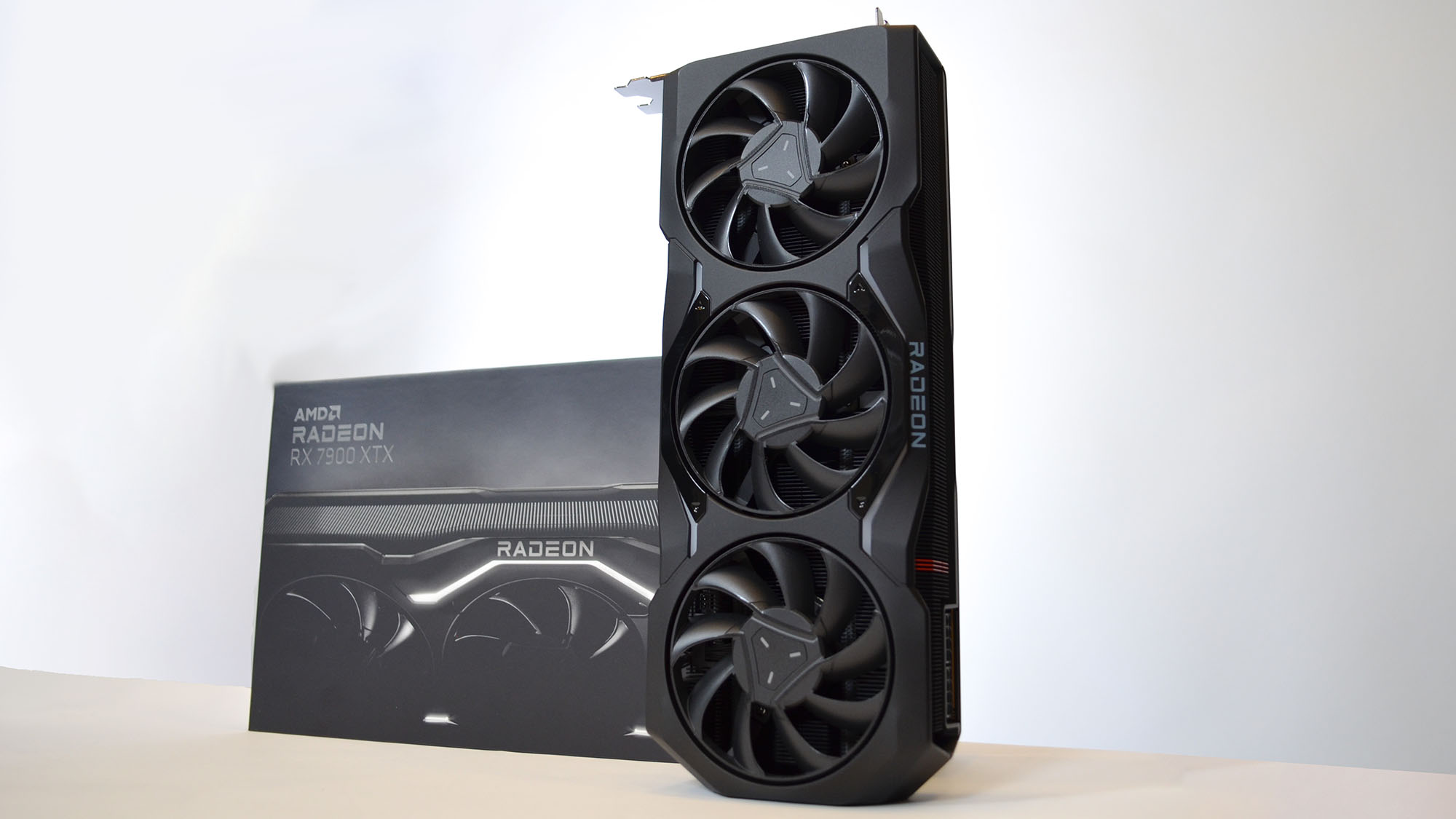 And what about graphics cards? The AMD Radeon RX 7900 XTX is the best graphics card AMD has ever put out, and it's better than the RTX 4080 in my opinion, especially for the price.
With the RTX 4070 Ti announcement, there's every hope that AMD will make an RX 7800 XT announcement tonight to make AMD even more competitive in the GPU space.
Then, of course, there's mobile to consider. We could see some new mobile CPUs and GPUs as well, which is good because based on what we've seen here, the new RTX 40-series laptops are some formidable machines.
2023-01-05T02:30:21.145Z
Ultimately, we'll know in about five minutes according to the announcer here at the event, so stay tuned!
2023-01-05T02:34:25.289Z
And here we go!
2023-01-05T02:38:07.486Z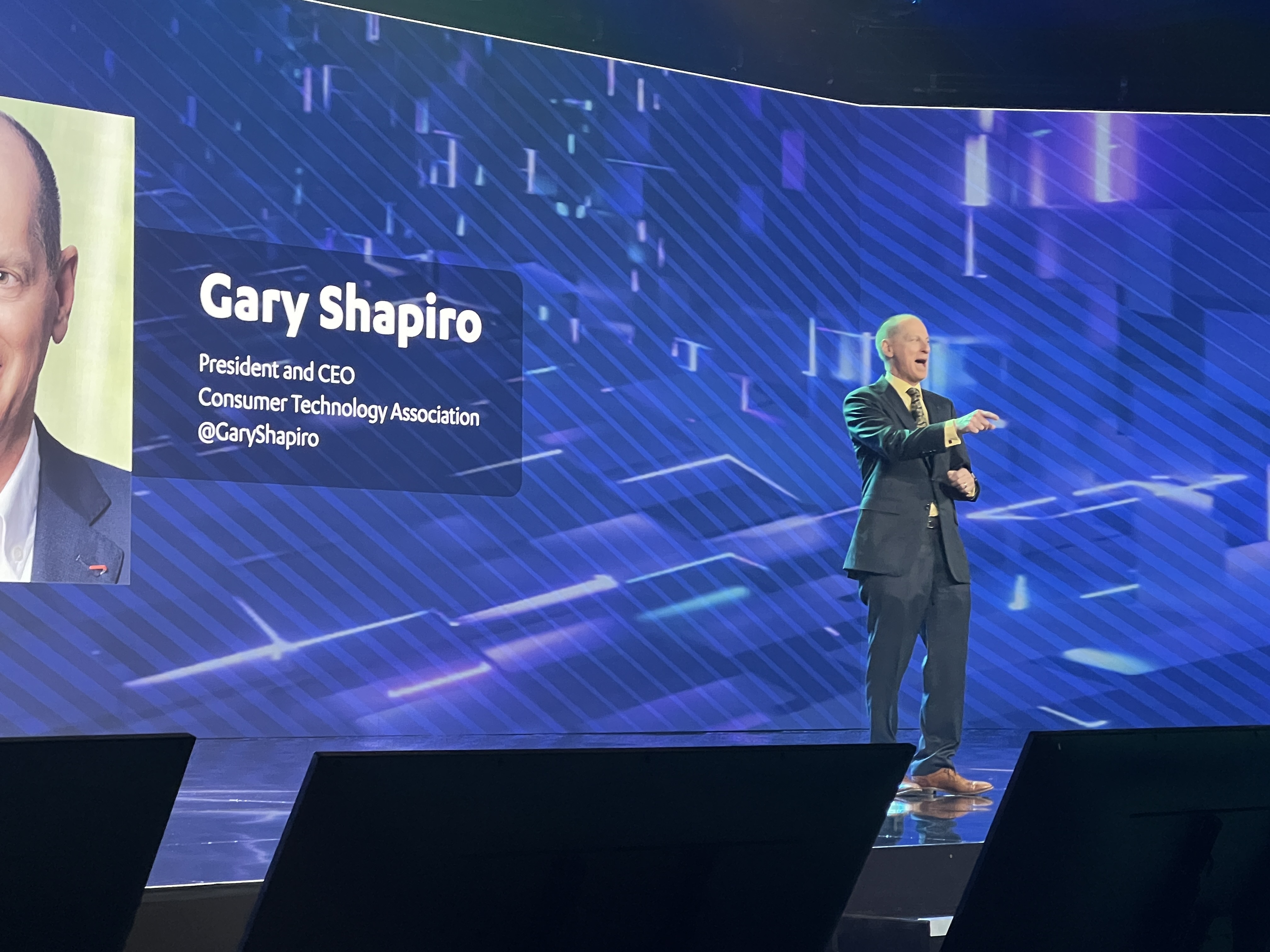 CTA president Gary Shapiro is introducing Su now, and to be honest, Shapiro is probably thrilled to be talking to a full ballroom after the past couple of years.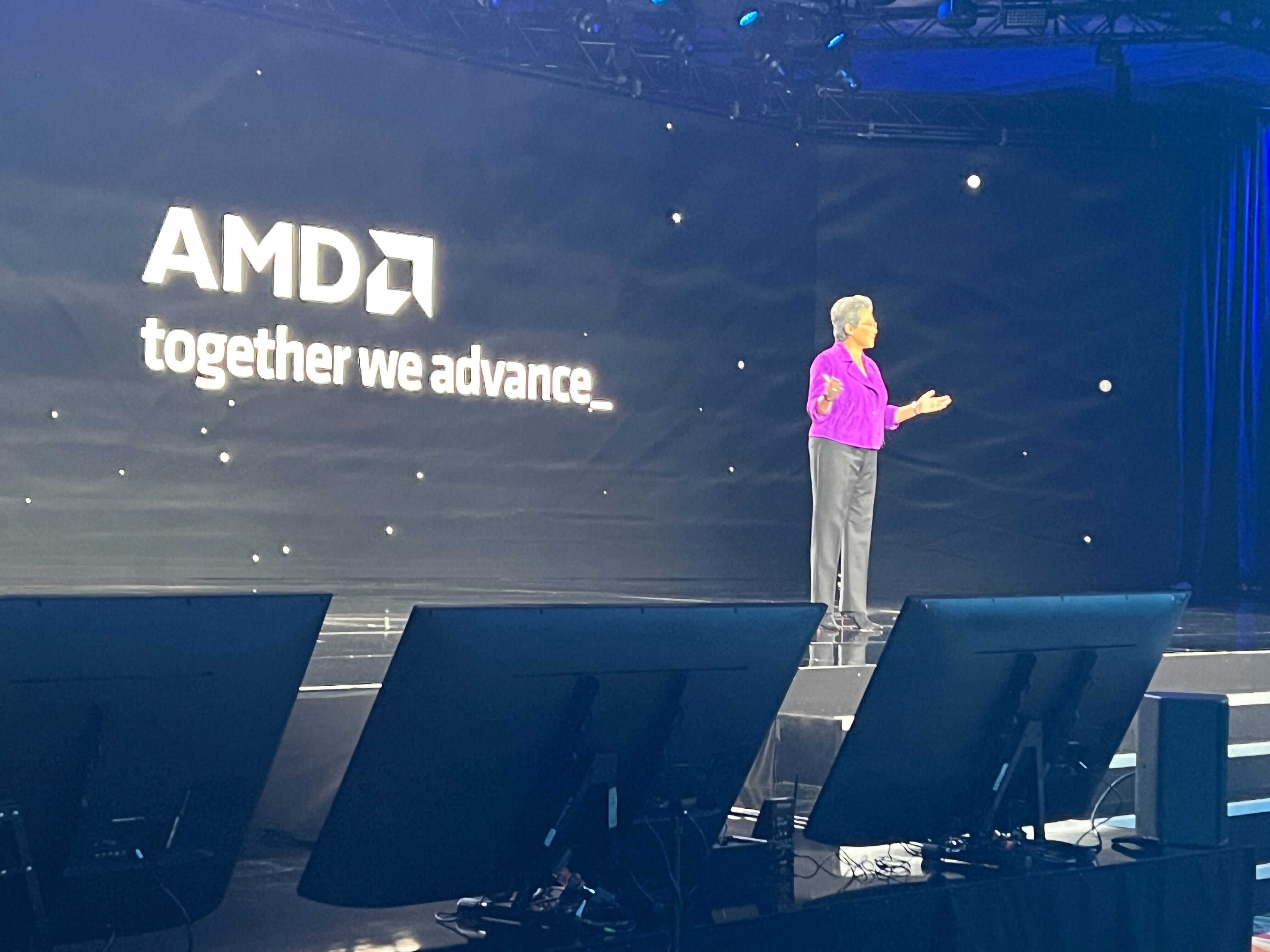 Dr. Su takes the stage!
2023-01-05T02:46:42.672Z
Su introduces AMD Ryzen 7040 series processors for notebooks, incorporating AMD XDNA AI processing, RDNA 3 GPU, and more.
2023-01-05T02:48:09.027Z
30+ hour battery life on video playback? That's quite a claim. We're definitely looking forward to testing that one.
2023-01-05T02:48:53.420Z
First laptops shipping in March, across ultrabook and gaming laptop categories.
2023-01-05T02:50:26.823Z
Su introducing Panos Panay, EVP and Chief Product Officer for Microsoft, and having some conference banter.
2023-01-05T02:55:14.807Z
Speaking of the Xbox, the AMD processor and GPU in the Xbox Series X (and PlayStation 5) is like two generations old and the GPU is about as powerful as a RX 6600 XT, but its capable of 60 fps @ 4K with ray tracing. That's the power of knowing what kind of hardware you're programming for well ahead of time and being able to optimize for hardware.
2023-01-05T02:56:40.956Z
Ok, so they're talking about the "future" of AI and Windows, so maybe Windows 12 talk? Lots of AI workloads that nobody was expecting, more AI integration into Windows in the future now that the hardware is there?
2023-01-05T02:57:50.140Z
Hybrid work talk now, meanwhile tech companies everywhere are demanding everyone come back to the office. Which one will win out?
2023-01-05T03:00:28.148Z
HP Presidednt and CEO Enrique Lores hyping up hybrid work (preach!), as well as noting that the freelance workforce is booming in the US, so yeah, we can get better webcams (or you can buy one off of our best webcams list)!
2023-01-05T03:03:01.177Z
Ok, gaming time!
2023-01-05T03:03:48.773Z
So are we getting processors or graphics cards? GIVE US BOTH!
2023-01-05T03:08:18.300Z
AMD Radeon RX 7600M XT and Ryzen 7945 HX, which definitely should help AMD gain some market share in the gaming laptop space, especially among budget gaming laptops.
2023-01-05T03:11:13.873Z
I am definitely excited for the Lenovo Legion Pro series. The Legion gaming laptops are a sleeper powerhouse that a lot of people seem to be missing, which is a shame. The Lenovo Legion 5 Pro is one of my favorite gaming laptops ever.
2023-01-05T03:12:15.752Z
Ok, X3D CPUs! Let's go!
2023-01-05T03:13:02.736Z
AMD Ryzen 7 7800X3D!
2023-01-05T03:13:55.137Z
Ryzen 9 7950X3D with 144MB cache, holy hell!
2023-01-05T03:17:03.427Z
The 7950X3D might be the chip that dethrones the 13900K, at least for gaming. I'm not sure that Intel cares, but its something that gamers are going to love.
2023-01-05T03:17:48.725Z
So we're getting three X3D chips, the 7800X3D, the 7900X3d, and the 7950X3D, all due out in February.
2023-01-05T03:18:57.861Z
No graphics cards (yet), unfortunately.
2023-01-05T03:21:40.051Z
It wouldn't be CES without med-tech talk, and it's probably more important than a lot of the other stuff we've seen so far, but it's hard to make medical devices splashy. Ultimately, I'm just glad we're not talking about the meta/omniverse.
I still don't know exactly what adaptive computing means, honestly.
2023-01-05T03:27:26.815Z
No. Don't do it, Dr. Su… Not the metaverse.
2023-01-05T03:35:43.214Z
Former NASA astronaut Dr. Cady Coleman takes the stage to talk about space exploration and AMD, which is John Loeffler-bait if there ever was any.
2023-01-05T03:38:36.989Z
Percy! Oh damn, RIP Oppy. That one still stings.
2023-01-05T03:44:31.253Z
Talking about space processors, before anyone slags the Apollo guidance computer being less powerful than a calculator, don't. The AGC is one of the most incredible engineering achievements humanity has ever produced. NASA landed astronauts on the moon in a tin can with electronic ropes running through rings to act as memory cores that can't be nuked by solar radiation outside of Earth's magnetic field. It's a shockingly brilliant solution to an intractable spaceflight problem.
2023-01-05T03:45:18.387Z
Data centers, TechRadar Pro's favorite subject, are going to be even more important for cloud gaming and all sorts of next-gen cloud tech in the next decade, but my God, they churn out carbon emission like a nothing else.
2023-01-05T03:47:54.098Z
Avatar: The Way of Water, also known as a reminder to never, ever doubt James Cameron's box office prowess. Who else can you trust with a $200+ million budget?
2023-01-05T03:56:57.351Z
And that's a wrap!
In the end, we got more or less what we were expecting from AMD's keynote, even if it's not as much as we hoped (I guess AMD has to save something for March/April).
The new Ryzen 7040 series processors should help AMD break into Intel's mobile processor marketshare if it can ship enough chips to OEMs, something that the supply chain issues have kind of hampered the Ryzen 6000-series chips. Interestingly, AMD isn't going with the 8000-series processor naming like they initially planned (even numbered series were supposed to be mobile, while odd-numbered were supposed to be desktop).
The mobile RDNA 3 GPUs will also give consumers some great options for budget gaming laptops, though it's notable that AMD compared its mobile 7600M XT GPU to the mobile RTX 3060, which is a last-gen mobile GPU. How well it stacks up against the new RTX 40-series remains to be seen.
Finally, 3D V-cache is coming to desktop gaming processors, which is something we've been waiting to see since late-August. We're also getting three chips, starting with the 8-core Ryzen 7 7800X3D, along with the 12-core Ryzen 9 7900X3D and the 16-core Ryzen 9 7950X3D, with the last one getting 144MB 3D V-cache, which is gargantuan.
We're going to be getting our hands on a lot of these new laptops this week (hopefully), so even if we can't benchmark them formally, we can hopefully get a better sense of what kind of gaming performance we can expect out of these new processors.
Check back over the next couple of days for our hands-on impressions and more from CES 2023!