Microsoft's stalled Activision Blizzard buyout received some positive news today, as the EU offered its approval.
The European Commission had been one of three major regulators standing in the way of the deal, alongside the US Federal Trade Commission (FTC) and the UK's Competition and Markets Authority (CMA) – the latter of which dramatically blocked the deal last month, dealing a sizable blow to it succeeding overall. Microsoft is now set to appeal that decision.
In Brussels, however, it's better news for Microsoft – after a couple of concessions ended up winning over EU regulators.
Cruically, the EU has given the nod to the deal after securing agreements to lessen its potential impact on the emerging cloud gaming market – the main sticking point with the UK's regulator.
This includes a free license for European gamers to stream any Activision Blizzard game they own via any cloud gaming service of their choice, and a free license for cloud gaming services in the region to host said games on their platform.
In a statement on the decision, Microsoft said this commitment would "apply globally". Company president Brad Smith claimed it would "empower millions of consumers worldwide to play these games on any device they choose".
The EU ultimately dismissed its earlier concerns around the deal's potential to harm rival console makers (ie. Sony, Nintendo) and game subscription services (such as PlayStation Plus). Ultimately, the EU decided Microsoft was unlikely to pull Activision Blizzard games like Call of Duty from rival consoles as it would see its profits suffer as a result (an argument Microsoft itself repeatedly put forward).
Indeed, the EU said that even if Microsoft did pull Call of Duty from PlayStation, Sony would still be able to remain competitive. PlayStation would simply "leverage its size, extensive games catalogue and market position to fend off any attempt to weaken its competitive position", the European Commission decided.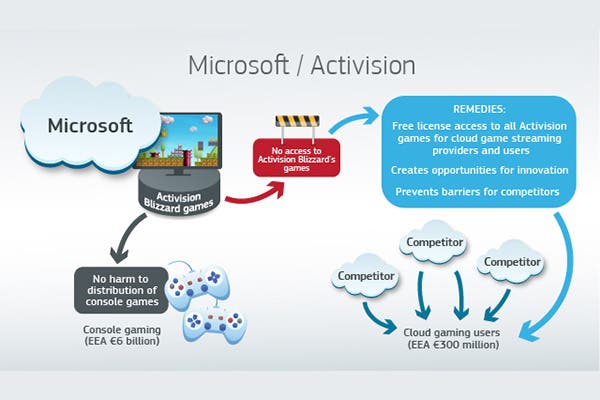 On cloud streaming, the EU found the deal was unlikely to change much as the market is still "very limited today". Indeed, the EU said it believes the deal could actually "promote its growth".
"These commitments fully address the competition concerns identified by the Commission and represent a significant improvement for cloud game streaming compared to the current situation," the European Commission continued. "They will empower millions of EEA consumers to stream Activision's games using any cloud gaming services operating in the EEA, provided they are purchased in an online store or included in an active multi-game subscription in the EEA.
"In addition, the availability of Activision's popular games for streaming via all cloud game streaming services will boost the development of this dynamic technology in the EEA. Ultimately, the commitments will unlock significant benefits for competition and consumers, by bringing Activision's games to new platforms, including smaller EU players, and to more devices than before."
The UK's CMA has disagreed with the EU's decision, and in a rebuttal to the news said it risked letting Microsoft rule the cloud gaming market for the next decade.
"Microsoft's proposals, accepted by the European Commission today, would allow Microsoft to set the terms and conditions for this market for the next 10 years," the CMA said. "They would replace a free, open and competitive market with one subject to ongoing regulation of the games Microsoft sells, the platforms to which it sells them, and the conditions of sale.
"This is one of the reasons the CMA's independent panel group rejected Microsoft's proposals and prevented this deal. While we recognise and respect that the European Commission is entitled to take a different view, the CMA stands by its decision."
Microsoft's proposals, accepted by the European Commission today, would allow Microsoft to set the terms and conditions for this market for the next 10 years.

[3/5]

— Competition & Markets Authority (@CMAgovUK) May 15, 2023

To see this content please enable targeting cookies.


As you'd expect, Activision today offered a positive spin on the news.
"The EC conducted an extremely thorough, deliberate process to gain a comprehensive understanding of gaming," the company's controversial boss Bobby Kotick said in a statement. "As a result, they approved our merger with Microsoft, although they required stringent remedies to ensure robust competition in our rapidly growing industry.
"We intend to meaningfully expand our investment and workforce throughout the EU, and we're excited for the benefits our transaction brings to players in Europe and around the world… Our talented teams in Sweden, Spain, Germany, Romania, Poland and many other European countries have the skills, ambition, and government support needed to compete effectively on a global scale. We expect these teams to grow and prosper given their governments' firm but pragmatic approach to gaming."
Despite its success in Europe, Microsoft now finds itself facing a tough challenge to get its deal approved in the UK, following the CMA's block.
Straightforward appeal cases typically take up to nine months to complete – and then are simply passed back to the UK's regulator to decide upon once more. Microsoft will need argue it was treated unfairly or that the CMA's process was flawed in order to succeed.
Failure in Europe would have dealt a successive heavy blow to Microsoft's hopes of owning Activision Blizzard. Next up, seeing off the FTC's legal action this summer.