The annual Warhammer Skulls showcase is done and dusted, and like a psychic blast from the Emperor himself into the minds of his devoted citizens across the Imperium, Eurogamer here delivers all the announcements, reveals and trailers straight into your eyeballs.
Let's start with the reveal of Realms of Ruin, the first Warhammer Age of Sigmar real-time strategy game. It's in development at Elite Dangerous maker Frontier, and is due out on PC, PlayStation 5 and Xbox Series X and S. The video below includes a CGI teaser, as well as a snippet of pre-alpha gameplay.
Free-to-play racing combat game Warhammer 40,000: Speed Freeks has an alpha playtest available on Steam right now. It looks pretty good! Trailer below:
The brilliant Powerwash Simulator is set for Warhammer 40,000 DLC. With any luck we'll be able to clean the dirt off a Leman Russ. Teaser below.
Here's a better look at the promising Space Marine 2. We get to see snippets of gameplay and the Tyranid horde. Looking forward to this one!
Fatshark's Warhammer 40,000: Darktide has a new update that adds two new maps and the Chaos Spawn.
cRPG Warhammer 40,000: Rogue Trader has a new trailer showing new locations, enemies and a new companion – the Space Wolf, Ulfar. The founders beta launches 1st June.
Eurogamer recently reviewed Warhammer 40,000: Boltgun. Now the boomer shooter has inspired new Xbox Design Lab controllers.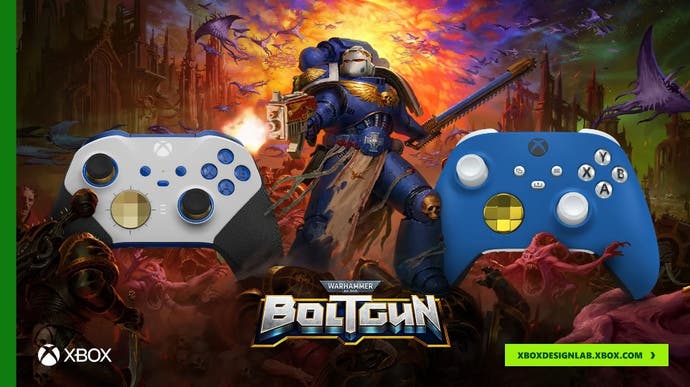 Creative Assembly's excellent Total War: Warhammer 3 announced and released legendary hero Harald Hammerstorm.
Blood Bowl 3 revealed the Lizardmen team, free to all on the launch of Season 1 later in June.
Warhammer 40,000 digital card game Warpforge announced and launched a demo featuring the new Tyranids.
The excellent Warhammer 40,000: Battlesector revealed and released new Orks DLC, which looks great. Trailer below:
Laced Music revealed the Warhammer 40,000: Mechanicus soundtrack on vinyl.
And finally, Warhammer: Vermintide 2 announced new Karak Azgaraz levels and teased Sienna's new career.
That's your lot from Warhammer Skulls 2023. What do you think? Anything take your fancy?