I can't put down the Meta Quest Pro. Ever since I first slipped the headset on to test it out I've been blown away by its performance, and my Quest 2 – once the best among the gadgets I own – now sits gathering dust as I ignore it in favor of this new champion of VR. Yet even as I sit here, impatient and longing for the Quest Pro on its charging station, I know the real truth of the situation: I'm not in love with the Meta Quest Pro. I'm in love with the Oculus Quest 3 hiding inside of it.
The Meta Quest Pro is an ultra-premium upgrade of Meta's Oculus Quest 2. The old white-plastic-clad front-heavy design has been swapped out for a sleek black shell with better weight distribution and padding for extra comfort. Internally, the Quest Pro also boasts improved specs with its all-new Snapdragon XR2 Plus chip, which offers a 50% boost in sustained power over the Quest 2's regular XR2, and a pair of Mini-LED display panels. Each screen offers 1800 x 1920 pixels per eye and provides 37% more pixels per inch and 10% more pixels per degree than the panels found in the Quest 2.
If that wasn't enough, the Quest Pro features improved controllers, which are rechargeable and use cameras for more accurate tracking, as well as all-new capabilities like color passthrough, hand-tracking, and eye-tracking.
The end result is a package that blows the Quest 2 out of the water. But there's a catch: the Pro costs a lot more than the Quest 2, and it doesn't offer quite enough bang for your buck.
Too much of a good thing
Meta's souped-up headset will set you back $1,500 / £1,500 / AU$2,450 – almost four times more than the base Quest 2 at $400 / £400 / AU$630. Even if you compare the Pro to the more expensive 256GB Quest 2 model which costs $500 / £500 / AU$790, the price discrepancy is no less impossible to ignore.
A price jump is to be expected when you consider the plethora of upgrades the Quest Pro has versus its predecessor, but what makes the price a tough pill to swallow is that the headset's most unique functions feel like a gimmick right now.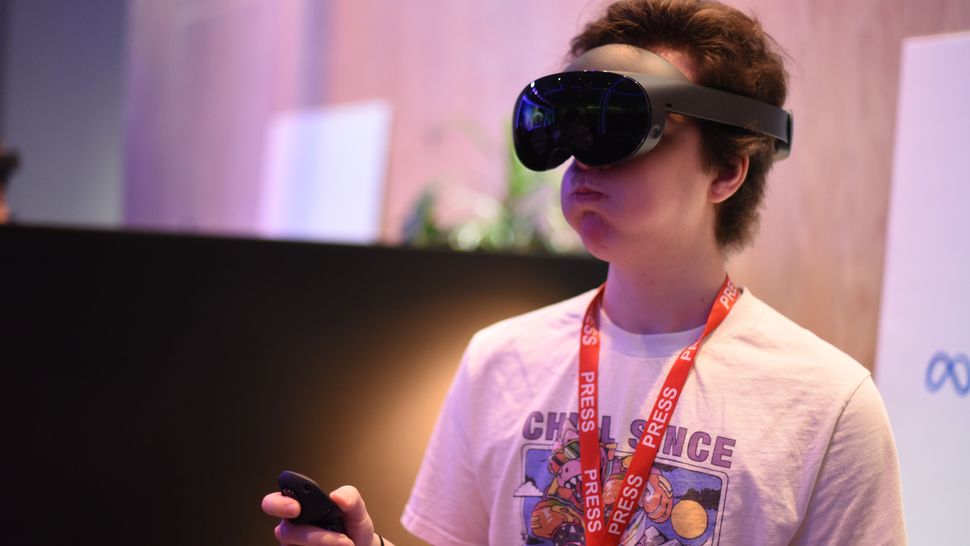 Face-tracking is interesting but if you don't spend much time in Horizon Worlds or other Horizon apps then it's not all that useful. Furthermore, while eye-tracking has really impressed me, the only thing it can really do right now is help make sure I'm wearing my headset properly and guide me in adjusting it. Color passthrough also suffers from a lack of meaningful mixed-reality experiences – most apps that put it to use offer perfectly good VR-only options.
Over the coming year, I expect Meta and its collaborators will build a case for why users should care about face tracking and color passthrough, but right now the only real benefits it offers are its better chip and display. And while the improvements are noticeable, they aren't worth paying an extra $1,000 / £1,000 / AU$ 1,820 or so over the Quest 2.
And this is where the Quest 3 comes in.
The Quest 3 is the VR headset for me
Meta (and a leaked design) has implied that the Quest 3 will be an improvement on the existing Quest 2, but won't be as feature-heavy as the Quest Pro – most likely lacking face/eye-tracking and offering more basic passthrough functionality. Instead, we'll most likely see it only pack a powerful chip and better display than its forerunner.
Image 1 of 2
What's more, the Quest 3's likely going to be sold at a more budget-friendly price. Meta has previously explained that the regular Quest line is aimed at more casual VR fans, while its Quest Pro models will be for prosumers and professionals after a next-level experience (and willing to pay the higher cost of entry it necessitates).
But I'm not after a next-level experience with tracking and mixed reality. I just want a device that can make the best Oculus Quest 2 games run better. So if the Quest 3 can match the Quest Pro in the ways that matter most to me – i.e. a Meta Quest Pro with its eye- and face-tracking abilities stripped out – and it's sold for $500 or less (around £500 / AU$790) then it'll be a definite must buy VR headset when it launches.
We won't know what Meta has up its sleeve until later this year when it unveils the Quest 3 at Meta Connect 2023 (which is due around October), but I'm already counting down the days. If you can't wait then Meta's Quest 2 will definitely serve you well – as will the Quest Pro if you can afford it – but considering how close we are to the Quest 3 being announced I'd strongly suggest holding off unless you see an incredible Quest 2 deal like the one from Black Friday 2022. If the Pro's performance is anything to go by, the Quest 3 is looking like the Quest 2 successor I really want.