A cascade of confidential Microsoft documents leaked overnight, detailing the company's Xbox plans for the coming years.
Along with emails detailing the likes of a potential eye on acquiring Nintendo and a Series X/S refresh for 2024, the leak also revealed Microsoft's plans to release a new next-generation console in 2028.
The leaked slides, as seen below, show Microsoft has its next-gen console planned for in five years time. It will support "Cloud hybrid games", and is currently described as an "immersive game and app platform".
In a follow up slide labelled 'The journey has already begun… and design choices are being made', Microsoft has highlighted the first dev kits for its next gen console. According to this documentation, these kits will be available to studios a year prior to full release, in 2027.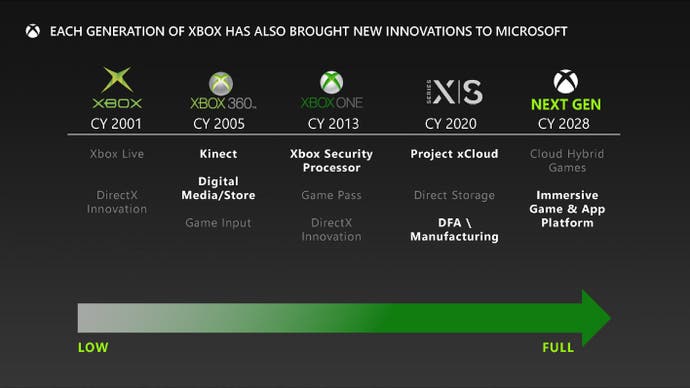 The leaked information all stems from FTC documents, which were part of Microsoft's ongoing bid to purchase Call of Duty and Overwatch maker Activision Blizzard.
Eurogamer has asked Microsoft for further comment.