Stray, last year's adorable game where you play as a cat in a cyberpunk world, looks to be pawing its way onto Xbox One and Xbox Series X/S in the near future.
The game – currently a PlayStation console exclusive – has now received a new Xbox rating by the European Software Rating Board (ESRB).
As spotted by Twitter user @MACOS380, Stray has been rated as E for Everyone 10+, with the ESRB noting the game features animated blood and fantasy violence. "Players sometimes encounter parasitic blobs/mice-like bots that can attack and kill the cat. Players can access a UV light to defeat the mice-like bots, causing them to explode and emit splashes of coloured liquid," the rating summary explains.
Other than that, this new Stray rating tells us little else, and no release date or window was included. Perhaps Playstation had a year's console exclusivity? The game initially released on 19th July 2022, so July this year seems a likely paw-sibility for its Xbox debut.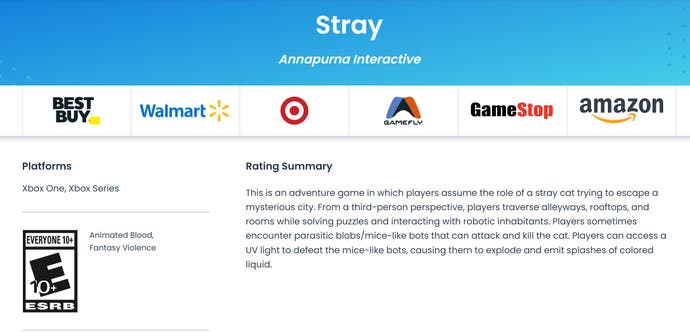 Eurogamer's Stray review was full of praise, with our Lottie complimenting the game's "fantastic cat exploration".
"Stray creates a journey filled with such a sense of exploration, on top of the chance to indulge in as much cat-truction as you like. While doing so, though, it also crafts a touching story about the human desires of those who, at a glance, lack humanity – be it to reunite with a loved one, protect a community or reach the outside world," she wrote.
"The result is a wonderful mix: a game about the longing for freedom, clever climbing mechanics, and every cat's eternal desire to knock items off shelves."
We will update you when we know more about Stray's Xbox release.