Microsoft's proposed deal to acquire Activision Blizzard is currently facing regulatory approval around the world, including in the UK where it is under close scrutiny following concerns the deal could be deemed anti-competitive.
Now, as part of its ongoing campaign to win over the UK's Competition and Markets Authority (CMA), Microsoft has run full-page Call of Duty ads in both the Daily Mail and the Financial Times.
The ad (spotted by The Verge) leans into Microsoft's recent deals with Nintendo and Nvidia, stating that should the Activision Blizzard deal go through, it will bring Call of Duty to 150 million more players.
"More games, for more players on more platforms," the advertisement reads.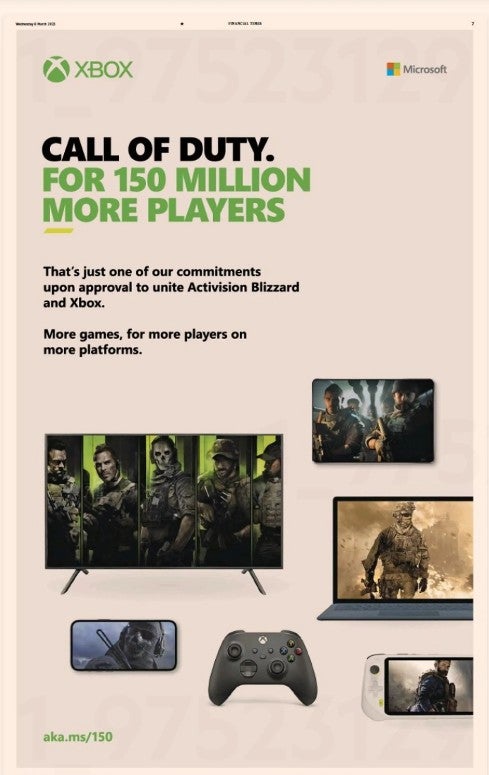 However, this latest move will likely not soften Sony's stance on the takeover bid.
The PlayStation maker has never hidden the fact it does not want this deal to go through. In fact, as recently as just yesterday, it came to light that Sony had suggested a number of ways Microsoft could hinder Call of Duty on PlayStation should regulators approve Microsoft's proposed takeover. This included Sony stating Microsoft may purposefully release a version with bugs and errors.
Meanwhile, according to Activision Blizzard's chief communications officer Lulu Cheng Meservey, when in Brussels recently Sony's CEO stated:
"I don't want a new Call of Duty deal. I just want to block your merger."
The CEO of SIE answered that question in Brussels.

In his words:

"I don't want a new Call of Duty deal. I just want to block your merger."

— Lulu Cheng Meservey (@lulumeservey) March 8, 2023

To see this content please enable targeting cookies.


Microsoft first announced its plans to purchase the Call of Duty and World of Warcraft maker in an astonishing, industry-shaking deal worth $68.7bn early last year.
The deadline for the CMA's final ruling is fast approaching: April 26th. That's a day after the deadline for European regulators.