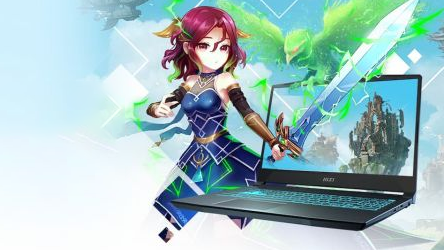 MSI launched its brand new version of the Bravo series packing some serious components heat under the hood, unlike the underpowered MSI Bravo 15 from 2022 that used AMD 5000-series graphics.
This new lineup is, according to KLGadgetGuy (opens in new tab), are outfitted with current-gen AMD CPUs and Nvidia GPUs and comes in two models. The Bravo 15 features a Ryzen 7 7735HS CPU and RTX 4050 GPU, while the Bravo 17 will come in two configurations: the Ryzen 7 7735HS CPU and RTX 4060 GPU model and the Ryzen 5 7535HS CPU and RTX 4050 GPU model.
Now powered by Nvidia's 4000-series GPUs, the Bravo line can use ray tracing in the best PC games like Cyberpunk 2077, while the AMD 7000-series CPUs have up to eight cores and 16 threads for even better all-around gaming performance. There's also its Cooler Boost 5 cooling solution with a shared pipe design that allows for much-improved ventilation, an absolute necessity for a laptop equipped with a 4000-series GPU.
But components aren't the only improvements, as the keyboards have gotten an overhaul with translucent keys that better complement the RGB lighting. The MSI Center software is also getting an upgrade, mainly with Discrete Graphics Mode. This allows users to overclock the GPU for an even better gaming experience.
Though the new Bravo brand of laptops is only available in select markets (opens in new tab) right now — none of which include the US, UK, or Australia — it could soon see a more widesprread global release depending on its success.
Acer and HP could finally meet their match
Acer and HP are currently two of the champs of the budget-friendly gaming laptop world, with portable machines that offer solid performance at a much more affordable price point than much of the competition. The HP Victus 15 and the Acer Nitro 5 are highly rated by us and both top our best budget gaming laptop list.
However, 2023 has been a bit more disappointing for Acer and HP, as these laptop manufacturers have been moving away from budget-minded gaming machines and focusing more on the best Ultrabooks and other pricier Pro-aligned products. This could mean that if MSI times a global launch correctly, it could swoop in and offer a competitive portable that's capable of making the two kings sweat.
And considering that performance hasn't been improved enough to match price increases, the decision to use the RTX 4050 and 4060 GPUs with the AMD 7000-series CPUs over maximizing specs and size increases is a smart one.
After all, my favorite laptop of 2023 by far is the Samsung Galaxy Book3 Ultra, which focused on those important factors while still maintaining a slim form factor that rivals some of the best thin and light gaming laptops. Here's hoping that MSI continuing to release laptops outfitted with more budget-friendly GPUs — rather than just focusing on its high-end machines like the MSI GT77 Titan — forces other manufacturers to actually try to keep up in this critical segment of the market.