Phil Spencer described Nintendo as "THE prime asset" in a leaked internal email concerning possible Microsoft acquisitions.
The email chain, sent in 2020 between Spencer, chief marketing officer Chris Capossela, and commercial chief marketing officer Takeshi Numoto, discusses the possibility of acquiring Nintendo at some point in the future, with Numoto initially noting Nintendo's "rich set of franchises".
"I totally agree that Nintendo is THE prime asset for us in gaming and today gaming is our most likely path to consumer relevance," replied Spencer.
Spencer went on to claim "if any US company would have a chance with Nintendo we are probably in the best position", though noted Nintendo is "sitting on a big pile of cash" which would make acquisition difficult.
As a result Spencer noted "I don't think a hostile action would be a good move" but added "we are playing the long game". It's unclear just how long that might be.
Spencer's email ends: "At some point, getting Nintendo would be a career moment and I honestly believe a good move for both companies. It's just taking a long time for Nintendo to see that their future exists off of their own hardware. A long time."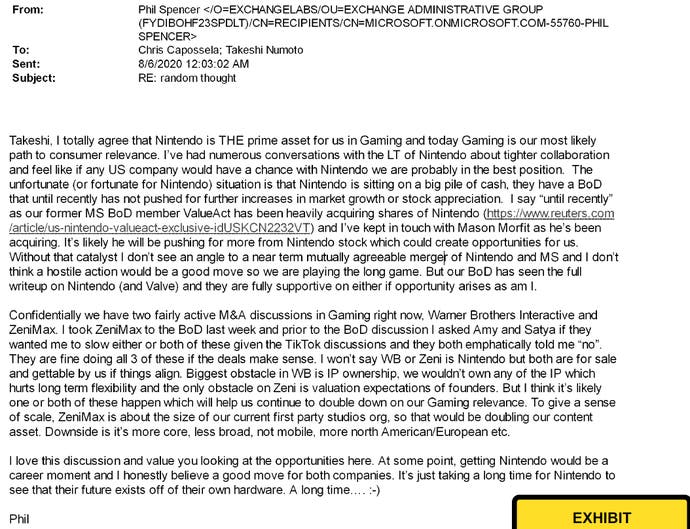 The email comes as part of a major new leak of internal Microsoft documents, including emails from Spencer and presentation slides.
The leak sheds light on Microsoft's Zenimax (Bethesda) acquisition, as well as other options considered.
A previous leak from June revealed Microsoft had considered acquiring Sega, as well as the likes of Supergiant, IO Interactive, and Niantic.
This new leak confirms that Microsoft approached Sega for a potential acquisition in 2020. The Japanese company was the most attractive target in a list of 46 companies evaluated. That also included Bandai Namco, Capcom, Konami, Square Enix, Take-Two Interactive, Ubisoft, Valve, and a number of mobile-centric studios.
Sega's suitability was evaluated on its console depth and back catalogue of recognisable franchises (Sonic, Persona, Yakuza); its PC catalogue (Football Manager, Total War); and its mobile presence in Asia.
The response from David Hampton, Microsoft general manager? "Game on".
There's no indication from this leak that Microsoft formally approached Nintendo with an acquisition offer. However, the two companies have worked together in the past.
Back in 2019, Microsoft revealed plans to add Xbox Live to the Switch. Then in 2020, Cuphead became the first Xbox Live game on Switch.
More recently, Microsoft and Nintendo signed a binding agreement to bring Call of Duty to Nintendo platforms as part of its bid to takeover Activision Blizzard.
Microsoft's admiration of Nintendo is also no secret – back in 1999, before Xbox, Microsoft attempted to buy Nintendo. Details of this were later revealed in 2021.