Launch sales for Sony's PS VR2 headset have surpassed its predecessor's.
In its recent financials, Sony revealed its PlayStation 5 powered VR2 headset sold in the region of 600k units during its first six weeks of availability.
For comparison, that is over eight percent more than PS VR1 sales in the same period of time.
This is a change to what was reported back in March, when it was suggested Sony was set to sell fewer than 300k PlayStation VR2 headsets in its first six weeks.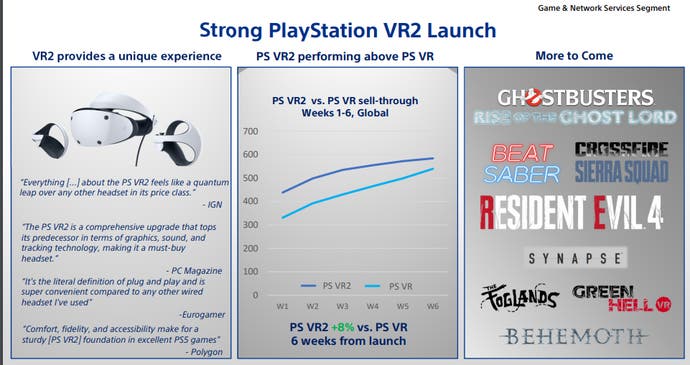 Earlier this month, PlayStation head Jim Ryan touched more on the PS VR2's launch, and stated it was still "a little too early to judge" the headset's popularity. However, he noted that reactions so far had been "positive".
The exec also reiterated there will be many more games coming to Sony's latest VR offering this year "and beyond".
"We will continue to push forward so that those who purchase PS VR2 can enjoy it for a long time and we can also secure profits," Ryan said.
Sony has a PlayStation showcase scheduled for later this evening. This show will last for an hour and focus on PlayStation 5 and PS VR2 games from PlayStation Studios, third-party partners, and indie creators from around the world, so we can expect to hear more then. Eurogamer will be reporting throughout the show, so be sure to check in with us this evening.