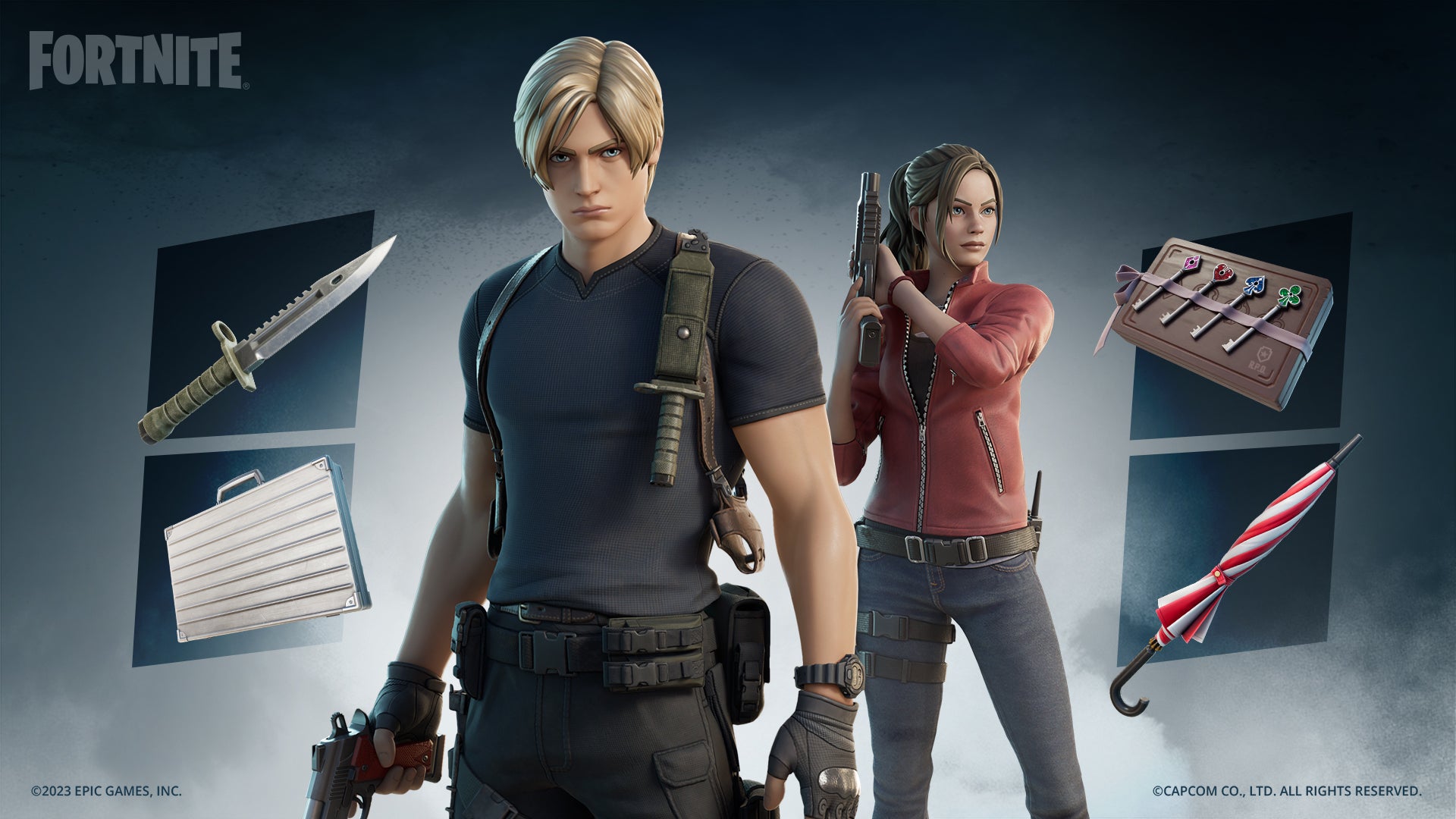 The arrival of Resident Evil 2 and 4 hero Leon S. Kennedy into Fortnite should be a cause for celebration, but fans were left stunned last night when the series' perfectly-coiffed protagonist turned up half-dressed.
No, he's not topless – though there's a Resident Evil 4 Remake demo mod for that if you so choose. Instead, Fortnite's Leon is missing his iconic jacket from the early stages of Resident Evil 4, and indeed any other style option.
Fans have complained it is a missed oppurtunity for Fortnite's version of Leon, and compared his character model to those for fellow Resi stars Chris Redfield and Jill Valentine, who are already available in Fortnite featuring multiple outfits from their various appearances.
Leon's accessories include his knife as a pickaxe, which I suppose is fair enough, and his attache case as a backbling – something which looks a little odd but never had any original in-game explanation either.
Claire Redfield is also now available to buy in Fortnite, dressed in her Resident Evil 2 costume. Again, there's no additional style options for her either.
The fact that you guys didn't add his iconic jacket ruins the skin. Also there is no R.P.D. outfit for Resident Evil 2 either.
PLEASE @FortniteGame

Add an alternate skin of his Jacket and R.P.D. on. pic.twitter.com/pleUIRsfg5

— Wolf Moon(COMMISSIONS CLOSED) (@WolfMoon35) March 17, 2023

To see this content please enable targeting cookies.


If you're reading Epic Games, there's still time for an update to dress Leon properly.
Capcom's Resident Evil 4 remake launches next Friday, and Eurogamer's glowing review is now available to read.
"Keeping what works while reimagining what doesn't, this is about as good as remakes get," our Aoife wrote in Eurogamer's Resident Evil 4 Remake review.