Nintendo fans, get your maracas at the ready. The classic rhythm-action game Samba de Amigo will be sashaying its way onto the Switch on 29th August.
This Switch version of the game is known as Samba de Amigo: Party Central. It sees players shaking their joy-con remotes around as though they are maracas, while simultaneously following on-screen prompts to pose and dance their way through a collection of infectious tunes.
It also adds in a range of new mini-game-like interludes as songs progress, so you will be quite literally kept on your toes.
Along with this release date, Sega has also shared more news on Samba de Amigo: Party Central's Digital Deluxe Edition.
It comes with the base game, of course, along with a few extra little flourishes such as the Sonic Music DLC Pack (which includes tracks such as "Open Your Heart" from Sonic Adventure and "I'm Here" from Sonic Frontiers) and the Sega Music DLC Pack (which promises tracks from Sega's history, such as "Rhythm Thief Theme" from Rhythm Thief & the Emperor's Treasure).
It also comes with costumes inspired by Sonic and Tails from the Sonic the Hedgehog series, as well as ones from Space Channel 5, Super Monkey Ball, and Puyo Puyo.
This little number will set you back £44.99, and can be pre-ordered through Nintendo's eShop.
If you aren't fussed for those extras, however, there is also the option to just pre-order Samba de Amigo: Party Central's base game. This digital standard edition will cost you £34.99.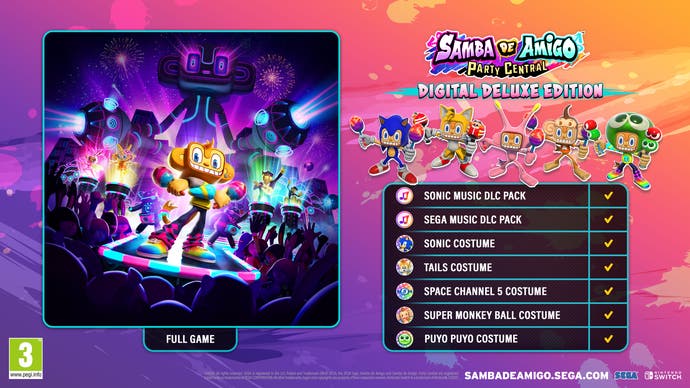 Last month, Sega revealed 20 of the 40 tracks it'll be shipping with on launch day. These are, in no particular order:
"Break Free ft. Zedd" – Ariana Grande
"I Really Like You" – Carly Rae Jepsen
"Payback (feat. Icona Pop)" – Cheat Codes
"Let You Go (feat. Kareen Lomax)" – Diplo & TSHA
"I Will Survive (Eric Kupper Mix Extended)" – Gloria Gaynor
"I Love It" – Icona Pop
"Centerfold' – J Geils Band
"Bang Bang" – Jessie J, Ariana Grande, Nicki Minaj
"Sucker" – Jonas Brothers
"TiK ToK" – Kesha
"Panama" – Matteo
"Plastic Hearts" – Miley Cyrus
"Celebrate" – Pitbull
"The Cup of Life (La Copa de la Vida)" – Ricky Martin
"XS" – Rina Sawayama
"Bom Bom" – Sam and the Womp
"Azukita" – Steve Aoki, Daddy Yankee, Play-N-Skillz & Elvis Crespo
"Macarena (Cover)"
"Fugue (classic)"
"La Bamba (Cover)"