New HBO Max movies: May 9, 2023 update
Tom Power, entertainment reporter
Our first May 2023 update sees six new films added to our best HBO Max movies list, including 2020 Best Picture Oscar winner Parasite and the cult comedy classic Step Brothers. We've also removed anything that joined the service before February 9 as we no longer considered them to be new entries.
Want to know about all of the new HBO Max movies to land on Warner Bros Discovery's (WBD) main streaming service? You've come to the right place.
Below, we've compiled a selection of the best new films to land on HBO Max since February 2023. Our guide contains a host of multi-award winning flicks, fan favorite films, and cult classics spanning numerous genres. So, whatever you're in the mood for, you'll find something worth watching on one of the best streaming services around.
With HBO Max set to be replaced by Max (WBD's new super streamer that launches on May 23), this'll be one of the final times we'll update this article in its current guise, too. You can read more about Max by checking out our 'seven things you need to know about Max' guide.
For now, though, these are the best new HBO Max movies to debut on the platform.
New HBO Max movies: May 2023
The Conjuring
HBO Max release date: May 8
The first film in the James Wan-developed supernatural horror series made its HBO Max debut very recently – and those who have seen The Conjuring will know why it makes it onto our list.
Starring Patrick Wilson and Vera Farmiga as paranormal investigators Ed and Lorraine Warren, the 2013 movie tells the 'based on real events' story of the married couple's investigation of The Amityville Horror in the early '70s. Discussing the film in further detail would spoil its spooky, metaphysical narrative, but rest assured: The Conjuring's gleefully eerie and well-crafted story, plus superb performances from its starry cast, make it worth watching (or revisiting) on HBO Max.
50 Shades of Grey
HBO Max release date: May 3
Film erotica isn't a genre that's recently appeared in the mainstream, but few movies in this space have been as eagerly anticipated (and, ultimately, as disappointing) as 50 Shades of Grey was upon release in 2015.
Based on E.L. James' novel of the same name, it tells the story of Anatasia Steele (Daktoa Johnson), a college graduate who begins a sadomasochistic relationship with Christian Grey (James Dornan), a billionaire entrepeneur.
Criticized by many for its glacial pacing, lack of chemistry between its leads, and curiously adapted screenplay, 50 Shades of Grey wasn't as well received as many expected it to be. Even so, it made $500 million-plus at the box office, proving that adult-positioned romantic films can still attract an audience.
Kingsman: The Secret Service
HBO Max release date: May 1
A movie series that tries to be as debonair as James Bond (and largely succeeds) while being even more gratuitously violent, Kingsman: The Secret Service was an unexpected delight when it arrived in theaters in 2014.
Taron Egerton (Tetris, Eddie the Eagle) plays Gary 'Eggsy' Unwin, a rebellious chav who's inducted into a secret spy organization by his late father's partner Harry Hart (Colin Firth) and tasked with stopping wealthy megalomaniac Richmond Valentine (Marvel star Samuel L Jackson) from wiping out much of the world's human population.
A subversive, bloody, rollicking fun, and quintessentially British film, Kingsman: The Secret Service is as outlandishly funny and gruesome as it gets. License to thrill, this most certainly has.
Parasite
HBO Max release date: May 1
Bong Joon-ho's 2020 Best Picture Oscar winner is a shoe-in on our new HBO Max movies list. Parasite, a black comedy thriller that deals with themes concerning the wealth gap/class divide, is a stunning piece of cinema that's absolutely worth your time, regardless of whether it's your first time viewing it or your 50th.
The South Korean flick follows the Kim family, a poor family of four who concoct a plot to become employed by a wealthy family. To do so, they pose as highly qualified individuals, and it isn't long before they infiltrate their hosts' abode and start living the life of luxury – only for things to go horribly wrong.
A brilliantly layered movie that explores societal themes in a wholly unique way, Parasite is a clever, hugely entertaining, and at-times anxiety inducing film that'll grip you from start to finish.
Step Brothers
HBO Max release date: May 1
One of the best comedies of the last 15 years (don't judge us), Step Brothers was another *ahem* step on the road to stardom for Saturday Night Live alumnus Will Ferrell.
Co-writing the flick alongside former business partner Adam McKay, Ferrell starred alongside John C. Reilly as Brennan and Dale, two 40-somethings who still live at home with their respectively divorced mom and dad. When said parents end up marrying each other, though, Brennan and Dale are forced to live with one another. Initially down on the idea, the duo soon realize they have a lot more in common than they thought (including an active dislike for their parents' newfound happiness), becoming true friends in the process.
Incredibly immature but no less laugh out loud funny, Step Brothers is very much a marmite kind of movie. Fans of Reilly and Ferrell will love its slapstick and increasingly ridiculous premise. Others, though, may not see what all the fuss is about (you're wrong if that's you, FYI).
New HBO Max movies: April 2023
Moonage Daydream
HBO Max release date: April 29
It's high time someone produced a docufilm centered on David Bowie, the iconic singer, songwriter, performer, and all-round creatively inspiring artist. Thankfully, Moonage Daydream, which has been written, directed and edited by Brett Morgen (Kurt Cobain: Montage of Heck) fills that void.
Comprising previously unseen footage from Bowie's personal archives, including live concert material – all of which was authorized by the Bowie estate for the first time ever – Moonage Daydream is a delightful audiovisual treat for Bowie fanatics, as well as music and documentary lovers alike. It's a trippy, visual feast for the eyes that captures the trailblazing artist at his captivating, humorous, and down-to-earth best. A must-see docufilm and worthy inclusion on our new HBO Max movies list.
Coraline
HBO Max release date: April 1
Based on Neil Gaiman's novella of the same name, Coraline is a wonderfully entertaining and somewhat scary stop-motion film that deserved more attention than it received upon initial release.
It tells the story of Coraline Jones (Dakota Fanning), who discovers a seemingly idyllic parallel universe behind a secret door in her home. Unbeknownst to Coraline, though, this apparent utopia hides a dark secret that could spell danger for the realm she hails from.
A spooky, thrilling, and highly enjoyable animated movie, Coraline is packed with nightmare-fuelled imagery for kids and plenty of contemplative themes for adults to muse over long after the credits have rolled. The saying 'be careful what you wish for' has never felt so apt.
Ghost
HBO Max release date: April 1
If you haven't seen Ghost – and, let's be clear, you're not a true cinephile if you haven't – you'll definitely have seen that pottery scene. It's too iconic for you to have missed in the 33 years since the romantic fantasy movie – one that saw millions fall in love with Patrick Swayze all over again – debuted in theaters.
The premise of Ghost is a simple one: banker Sam West (Swayze) is murdered, but his ghost cannot pass to the other side until he saves his still-living girlfriend Molly Jensen (Demi Moore) from the individual who killed him. Unable to communicate with Molly – you know, because he's a spirit – Sam enlists the help of paranormal psychic Oda Mae Brown (the brilliant Whoopi Goldberg) to 'speak' to Molly.
Its visuals look dated now and, for some film aficionados, Ghost doesn't tug at the heartstrings or do anything that other ghost-based movies have done before or since. Even so, its blend of comedy, horror, and mystery, coupled with some great performances from its primary cast, make it worth including on our new HBO Max movies list.
Valkyrie
HBO Max release date: April 1
It's hard to believe this historical war thriller, which is inspired by a true story, is 15 years old this year. Even so, Valkyrie holds up as a politically-charged, suspense-filled war film that'll leave you on the edge of your seat throughout its two-hour runtime.
Top Gun: Maverick and Mission: Impossible star Tom Cruise plays Colonel Claus von Staffenberg, a German army officer who led the July 1944 plot to try and assassinate Adolf Hitler in a bid to end the Second World War, and implement the Operation Valkyrie national emergency plan once the deed is done. As history proved, though, von Staffenberg and his fellow conspirators weren't successful in their mission.
That doesn't make Valkyrie any less tense as a film, mind you. Its all-star cast – including, but not limited to, Cruise, Kenneth Branagh, Bill Nighy, Terence Stamp, Carice van Houten, Eddie Izzard, David Bamber, Tom Hollander, and Bernard Hill – are all on good-to-great form. Add in your typical "horrors of war" aesthetic and anxiety-laden scenes, and Valkyrie is a must-watch for history movie lovers. Just try to look past the Americanization of it all.
New HBO Max movies: March 2023
Mortal Kombat
HBO Max release date: March 8
It's about time 2021's Mortal Kombat movie *ahem* got over here. The R-rated action flick, which is based on the iconic video game series of the same name, has finally made its way back onto HBO Max. That's after it initially debuted with a day-and-date launch on the streamer and in theaters on March 8, 2021.
Mortal Kombat follows Cole Young (Shadow and Bone season 2's Lewis Tan), a washed-up martial arts fighter who eventually finds himself wrapped up in a universe-spanning battle to protect Earth – also known as Earthrealm – from Outworld and its champions. Will Cole and his allies succeed? Only if they win the tournament known as – yep, you guessed it – Mortal Kombat.
The game series' latest film adaptation received mixed reviews from critics upon release, but it faired far better among general cinephiles. Considering the movie industry's previous attempts to make a good Mortal Kombat film, the 2021 revival is nothing to be sniffed at, with its gruesome action, stunning martial arts-based sequences, and endearingly corny humor making it well worth a watch.
House Party
HBO Max release date: March 3
It only debuted in theaters this January, but the 2023 remake of the 1990 cult classic House Party has already made its way onto HBO Max.
Considering this Tosin Cole and Jacob Latimore-starring comedy made little to no waves at the box office – it only made $9.2 million globally, and has been critically panned online – that won't come as a surprise. Still, if Black comedies are the kind of films you enjoy, particularly ones with cameos from plenty of household names – LeBron James, Snoop Dogg, Tristan Thompson, and Kid Cudi to name just four – this might be worth your time.
Bloodsport
HBO Max release date: March 1
A product of the '80s-era US-based martial arts scene, Bloodsport provides enthralling action and hackneyed stereotypes in equal measure. A sign of the times almost 40 years ago, then.
Iconic action star Jean-Claude Van Damme stars as US Army Captain (and prodigious ninjitsu practitioner) Frank Dux, who competes in an illegal martial arts tournament – known as the Kumite – in Hong Kong for, well, some reason.
It's all very clichéd, with a derivative plot, characters who make perplexing decisions, and a movie lacking in style and substance. Still, its close-quarters combat was ahead of its time, and many observers claim Bloodsport wound up influencing the early days of UFC and – funnily enough, considering one of its movie adaptations appears on this list – the legendary video game series Mortal Kombat.
I Love You, Man
HBO Max release date: March 1
It's weird to think we lived in a world where the word "bromance" wasn't really a thing. But, thanks in part to 2009's I Love You, Man, it's become part of our everyday vocabulary.
The, well, bromantic comedy stars Paul Rudd (Ant-Man) as Peter, a friendless guy who seeks a best man for his upcoming wedding. He soon bumps into Syndey Fife (Jason Segel), an investor who shares Paul's affinity for the rock band Rush. They become best friends but, just when Peter thinks he's found "the one" – not that one – Syndey inadvertently begins to strain Peter's relationship with wife-to-be Zooey (Rashida Jones), throwing their nupitals into jeopardy.
It's a simple premise for a rom-com movie. But, thanks to Rudd and Segel's chemistry, plus a wave of adult jokes and other brilliantly cringe-inducing material, I Love You, Man is a hilarious, heartfelt comedy about standing by your buddy – even if you've just met them.
House at the End of the Street
HBO Max release date: March 1
This 2012 psychological thriller recently made the jump to HBO Max, but it'll do little to assuage you, even if it stars one of the best actors of the last 15 years.
House at the End of the Street stars Jennifer Lawrence (The Hunger Games, X-Men) as Elissa, a teenager who moves into a new neighborhood with her mom Sarah (Elisabeth Shue). Unbeknownst to the pair, the titular house at the end of their street was the scene of a double homicide years prior – which is still lived in by Ryan (Max Thieriot), the older brother of the girl who is said to have committed the crime. Cue spooky goings-on and other tension-fuelled story beats.
Unfortunately for House at the End of the Street's cast and crew, it's just not a good movie. It doesn't make full use of Lawrence's clear talents, while its plot is as bland and schlocky as they come. Give this one a hard pass.
The Expendables
HBO Max release date: March 1
Action movies of the macho/bravado variety were big business in the 1980s – and The Expendables film franchise has looked to revive that sub-class of movies 40 years on from its initial arrival on the scene.
The Expendables movies aren't brain-engaging flicks in any sense of the word, but viewers of a certain disposition will certainly get a kick out of their huge, explosive set-pieces – and their penchant to bring the biggest action stars together on the big screen. Sylvester Stallone, Jason Statham, Dolph Lundgren, Jet Li, Arnold Schwarzenegger, Bruce Willis, Harrison Ford, Mel Gibson, and even Chuck Norris have starred in one of (or all) the three Expendables films thus far.
Critics have never been kind to The Expendables, but the film series' $800 million-plus box office takings show there's an audience for this kind of content. Luckily for you, all three movies are available on HBO Max.
Creed
HBO Max release date: March 1
The Creed series is more than just a revival and/or evolution of Sylvester Stallone's beloved Rocky franchise. With three Creed films now out in the wild – read our review of Creed III, which landed in theaters on March – it's a movie series in its own right. And, as sports dramas go, each Michael B Jordan-led flick is better than the last, so they're worthy entries on our new HBO Max movies list.
Creed I and Creed II are available to stream on HBO Max right now. So, if you were planning on seeing Adonis Creed's latest boxing bout on the big screen, and now have to wait for it to come a streaming platform, now is the perfect time to catch up on his journey. Be sure to find out how to watch the Rocky movies in order, too, to see where each Creed movie falls on the franchise's overarching timeline.
New HBO Max movies: February 2023
Gravity
HBO Max release date: February 23
Alfonso Cuaron's sci-fi action-thriller was a rollercoaster ride when it debuted in theaters in October 2013 – and not just emotionally. Its cinematography and visuals, which captured the vastness of space in excruciatingly terrifying detail, were especially hailed upon initial release, and still hold up 10 years after it *ahem* launched worldwide.
Led by superb performances from Sandra Bullock and George Clooney, Gravity is a must-see movie for any sci-fi lovers. It's incredibly tense, grounded in real-life space exploration (and the perils of doing so), and – at just 91 minutes – is one of those rare films that doesn't outstay its welcome. If you're looking for other top-tier sci-fi films to stream, check out our best sci-fi movies list.
The Dark Knight trilogy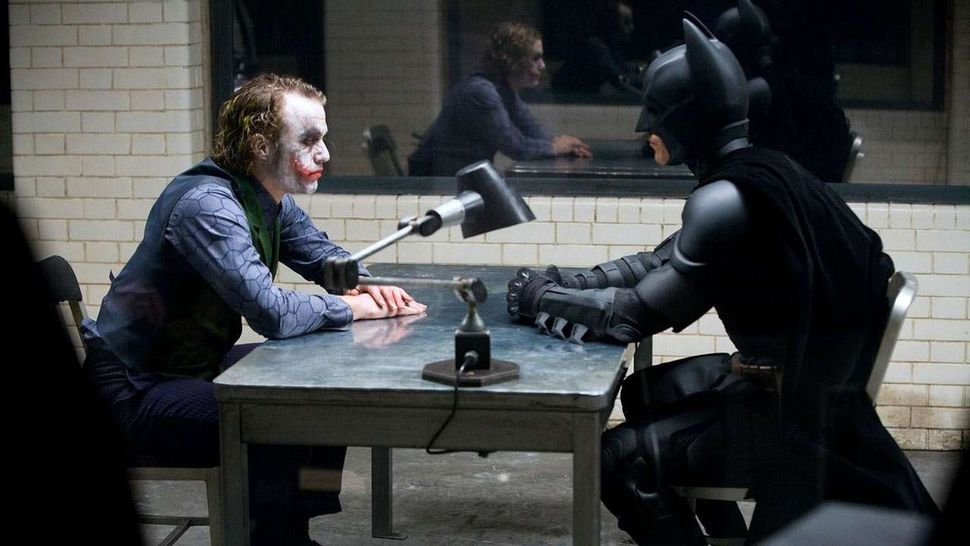 HBO Max release date: February 11
Christopher Nolan's seminal trilogy was expected to depart HBO Max in February but, as we revealed, the Dark Knight trilogy didn't leave the platform on that date. Its licensing deal has been extended by Warner Bros, hence its inclusion in our new HBO Max movies guide.
The Christian Bale-led Batman films are some of the best superhero movies of the last 20 years. Considering the wealth of Marvel and DC films we've seen since the start of the 21st century, that takes some doing.
Nolan's Batman movies, though, are absolutely spectacular. From their grounded and neo-noir vibes, top-tier performances (how good is Heath Ledge's Joker?), and visually arresting set-pieces, this is a trilogy you can't afford to miss. Read up on where Batman Begins, The Dark Knight, and The Dark Knight Rises feature in our best Batman movies list.
New HBO Max movies: coming soon
Want to know what's joining our new HBO Max movies list in the coming weeks? Read on for a list of the best films to watch out for:
Unbreakable – May 15
Land of Gold – May 15
Men in Black I, II and III – May 16
The Lego Batman Movie – May 17
The Lord of the Rings: Fellowship of the Ring – May 17
Shazam!: Fury of the Gods – May 23 (coming to Max, Warner Bros Discovery's new super streamer)