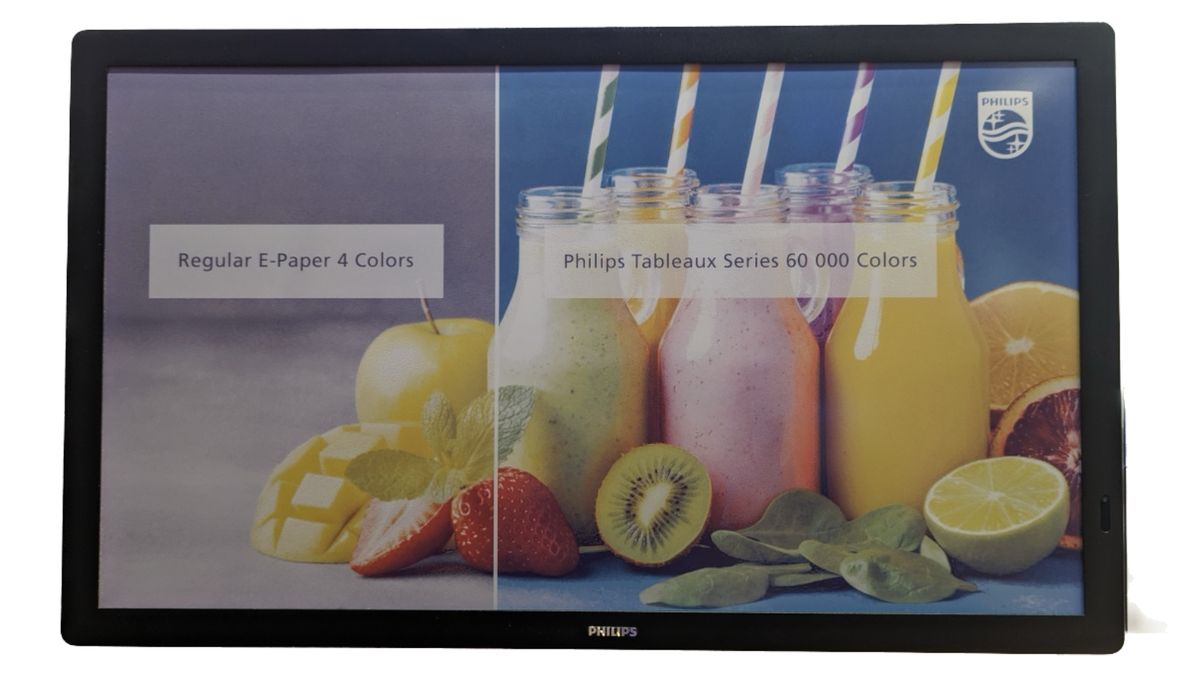 PPDS, the brand behind Philips professional displays, has announced a new range of products at ISE 2023, including Philips Tableaux, which it claims is the most energy-efficient and eco-friendly digital signage range ever launched by a major manufacturer.
What captured our attention about Tableaux is the fact that it can run entirely unplugged and without using a single kilowatt of electricity, a feat that could help reduce the carbon footprint of businesses as well as their electricity bills. It also allows for new installations in places where access to electricity is challenging.
Two panels are available, one in a traditional 25-inch 16:9 format, while the other is a more stretched 28-inch 32:9 model. PPDS claims that its Android-based Tableaux range can deliver up to 60,000 colors – including blue – which is a major milestone for what is essentially a glorified e-paper technology.
Images of the two panels in what looked like commercial settings show content with relatively rich colors, high brightness and contrast, a far cry from the usual monochrome setup.
The Tableaux series will show content without being plugged in or using power at all and PPDS already confirmed that they will be compatible with its Wave cloud-based fleet management platform which is used to, for example, update the content being displayed, over the air and without human intervention. Note that due to the nature of the technology, it cannot be used for interactive displays, touchscreen displays or as business monitors.
The rise of zero-power electronics
From its humble beginnings in 2007 till now, color e-paper has reached mainstream, even finding its way in supermarkets and petrol stations. What Tableaux brings in terms of innovation is the ability to scale to much bigger display areas and the ability to sip power.
PPDS is part of TPV Technology Limited, the world's largest manufacturer of monitors and the rollout of Tableaux is an intriguing new direction we will keep a keen eye on given the current financial pressures businesses – especially SMBs – are under.
We've reached out to PPDS to find out more about the exact specifications of the two displays: can they be charged via a USB port (and potentially using nothing more than a portable power station or a battery charger)? What is the screen resolution? What sort of brightness/contrast ratio can they deliver? Do they use no power at all to display? How much power do they use to swap the content being displayed? What is the capacity of the embedded battery?
Beyond that it will be interesting to see if there are any plans to scavenge energy (e.g. ambient heat or light?), whether there's any plans to go for even larger format displays and whether PPDS will license the technology to other electronics manufacturers who may then introduce them elsewhere (e.g. fridge, laptop, furniture etc).
According to Franck Racapé, Head of Global Commercial & Vice President EMEA at PPDS, the smaller of the two Tableaux will cost around 1,000 Euros in Europe, which, at current energy prices, will pay for itself in about 30 months.