The Nvidia RTX 4090 announcement is less than a day away, and we're here to bring you all the latest as it happens, along with the TechRadar team's in-depth analysis of what to expect over the next 24 hours.
In case you have no idea what we're talking about, the Nvidia RTX 4090 is Team Green's next flagship graphics card, the kind that go into the best gaming PCs and best workstations for creative content. It's likely to be the most powerful consumer-grade graphics card ever produced, and it will likely make the best graphics cards currently on the market pale in comparison.
And that's quite a feat, given how powerful the best Nvidia GeForce graphics cards like the Nvidia GeForce RTX 3090 Ti and even the Nvidia GeForce RTX 3080 actually are.
Nvidia Ampere, as the last generation of graphics processing architecture is called, is no slouch, and we'll tell just about anyone that the Nvidia GeForce RTX 3070 is really about as much as anyone really needs. Still, Nvidia's next-generation graphics architecture, Nvidia Lovelace, is shaping up to be down-right revolutionary in terms of its gen-on-gen performance.
And now, after much anticipation, it seems like the Lovelace launch is finally here. We can't say for sure which cards will be announced tomorrow – or even whether any graphics cards are announced at all – but an opening floodgate of rumors, leaked pics, and online benchmarks all point to an announcement on September 20 of at least the RTX 4090, though we suspect that the RTX 4080 and maybe even the RTX 4070 will also make an appearance.
In the lead up to the announcement, we'll be giving our expert analysis about what we expect, what we want to see, and finally our live reactions to the announcement as it happens. So stick with the TechRadar Nvidia RTX 4090 liveblog throughout the day for all the latest news and analysis.
Welcome to TechRadar's Nvidia RTX 4090 announcement liveblog! I'm John Loeffler, TechRadar's US Computing Editor, and I'm kicking things off here less than 16 hours away from what is expected to be one of the biggest announcements of the year for the computing team – and yes, even bigger than a new MacBook.
Later, I'll be joined by Christian Guyton, UK Computing Editor, and Matthew Hanson, TechRadar's managing editor of computing and home entertainment, to help cover the lead up to the announcement tomorrow at 8AM PDT / 11AM EDT / 4PM BDT.
There's a lot to discuss in the leadup to the announcement, so lets dig right in with the very first thing: what we expect to see tomorrow.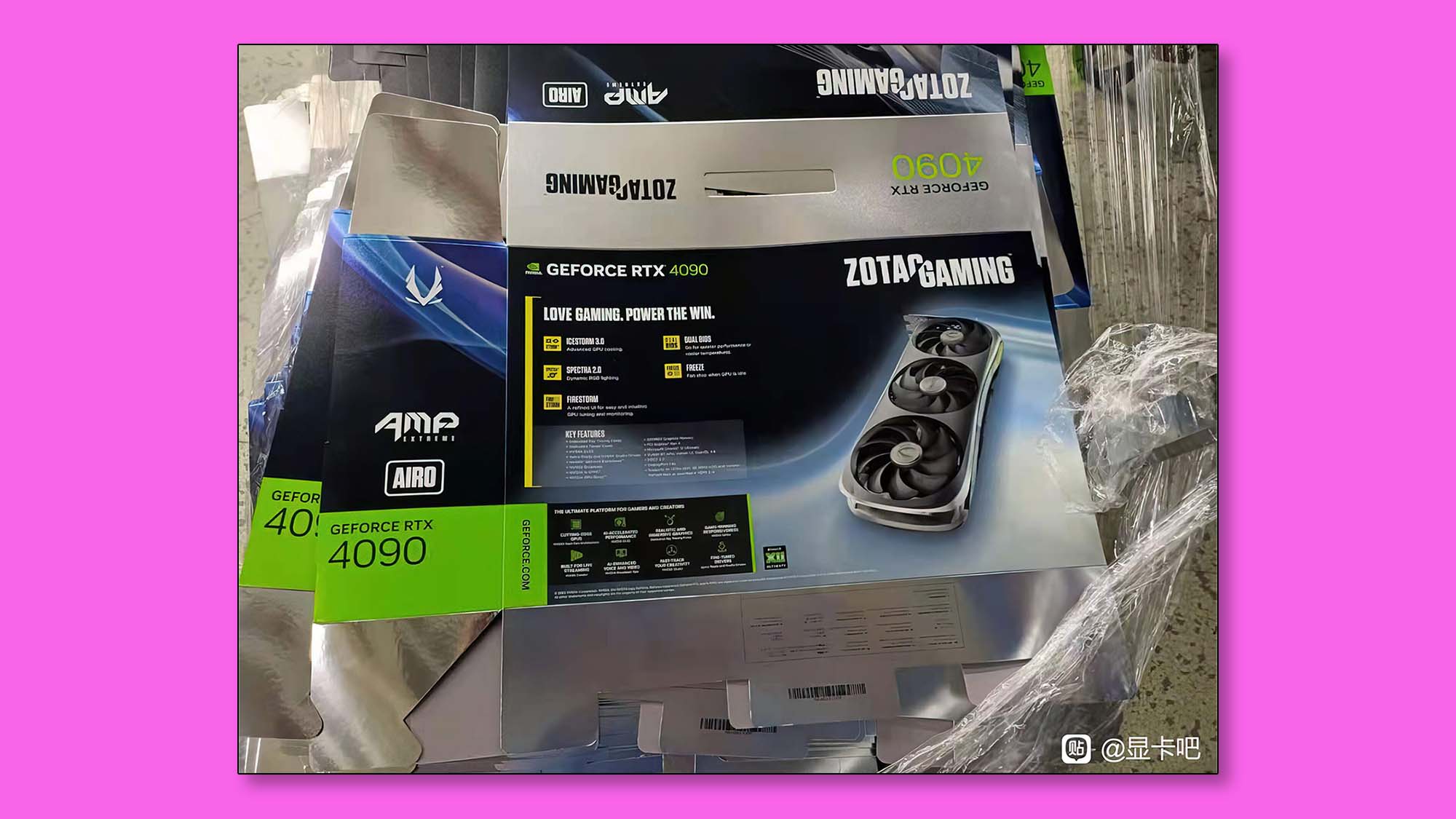 Without a doubt, we are expecting to see the Nvidia RTX 4090 tomorrow at Nvidia's event. First, it's called "GeForce Beyond", and since GeForce is Nvidia's consumer graphics card branding, there's pretty much no doubt that this will be a consumer products event as opposed to enterprise cloud computing systems or something similar.
Second, in a recent teaser for tomorrow's event posted to Nvidia's GeForce Twitter account, Nvidia subtly gave the game away when they shows a computer desk with a monitor displaying a GeForce background, and Ada Lovelace's computer program for calculating Bernoulli numbers using Charles Babbage's theoretical Analytical Engine on the desk.
Lovelace, of course, is Nvidia's code name for its next generation of graphics hardware, so there isn't much mystery around what will be unveiled tomorrow. 
Now, when Nvidia Ampere was first shown off in 2020, it wasn't for a consumer product, but rather for server and enterprise computing, so there is a precedent for showing off computer architecture before releasing it for a consumer product. But this was also early on in the Covid pandemic of 2020, and Nvidia was specifically highlighting how its new architecture was helping researchers fight the novel coronavirus. Given the circumstances, we don't think that Nvidia is looking to show off the technology this time around without a product.
A huge part of this is both the product release cadence (it's been two years since the RTX 3000-series launch), and a number of leaked photos of RTX 4090s with third-party manufacturers and partners, including Gigabyte, Zotac, and Lenovo. These cards are going into systems and retail packaging as we speak, so there's no reason to think that Nvidia won't be revealing at least the RTX 4090 tomorrow.
So what about the RTX 4080?
We've gotten a lot less info about the RTX 4080 in recent weeks, but there's still a off chance that we'll get an RTX 4080 announcement tomorrow as well. The best evidence of this is wholly speculation on my part, which I dived into recently, but the long and short of it is that leaked photos of the RTX 4080 in production look pretty authentic, and so it is likely right behind the RTX 4090 in terms of release.
Staggered releases aren't anything new, obviously, and there's every reason to think that Nvidia Lovelace will be the same. If we're expecting the RTX 4090 in October, the RTX 4080 could show up in late October, early November, so the fact that the RTX 4080 would be in the early stages of rolling out production units tracks.
That could still get us an announcement tomorrow, though the release date might be a later, which is something we saw with Nvidia Ampere.